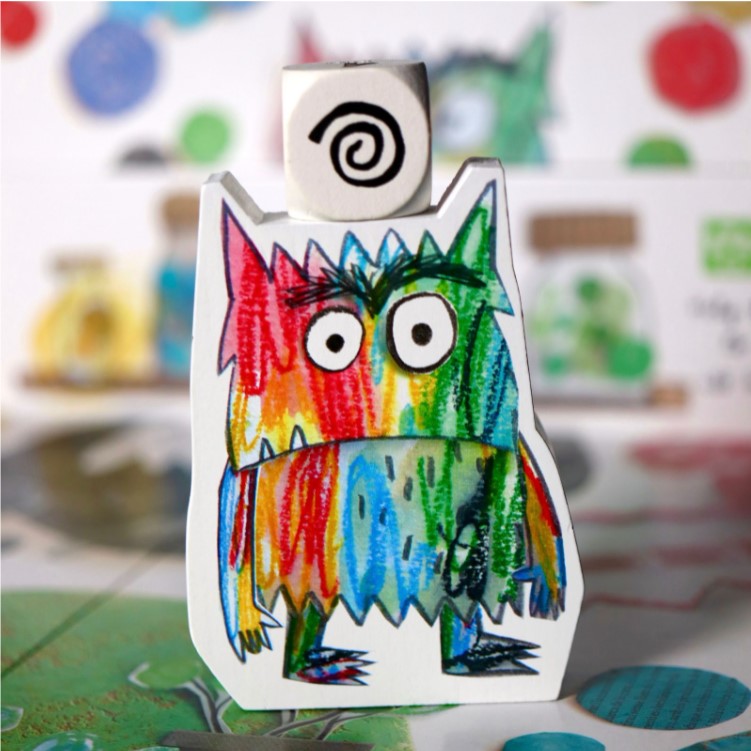 The Color Monster from Devir Games is a delightful opportunity to share stories and feelings in a tabletop setting, which we have previously written about here at the Daily Worker Placement. Since discovering that game, I've kept an eye out for games that allow some of our family game time to be spent asking questions and exploring emotions together.
Today, I'd like to share two games that allow for one or both of those goals to be achieved. Neither game is making its way through traditional distribution channels, and won't be found on the shelves of your local game store. So if either game seems like something you'd like to investigate further, look for product links throughout this article.
First up, we have Ancano: Exploring the Ins and Outs of Your Anger. What does "Ancano" mean? It's a blending of the words Anger and Volcano, and this game explores and offers tools for managing those dark bubbling feelings that can easily turn explosive in both kids and adults. Rolling a die and moving around a colourful board, players will land on spaces featuring spaces that match up with the game's various cards. Many of the cards offer players the opportunity to answer and discuss questions to explore some pretty complicated feelings.
Some of the cards even encourage physicalizing those feelings, which makes great sense given that this little game comes from a Yoga Studio in New York!
Unlike many of the games featured by Little Big Thumbs (both here at the DWP and on our YouTube channel), this is not a game you'll be playing after the children are asleep. It's a lovely activity for families with young children, but the game itself is mostly a vehicle to those insightful conversations!
Speaking of conversations, here is our second game today:
Top Tale is a party-style game of ice-breaking chit chat, in which one player plays a prompt card, asks the question to the group of players, and everyone votes on the best answers. It's as simple as it sounds, and while this game doesn't offer the same child-focused depth of discussion as either The Color Monster or Ancano, it's a treasure trove of conversation starters.
Much like Ancano, this isn't a game to bring out with a group of dedicated gamers, but it's likely going to be appreciated by families who are weary of anything resembling a hobby-style game. We've especially had great fun with these cards while on video calls with grandparents, as keeping younger beastlings focused during those distanced calls can prove a tiny bit challenging!
We decided to remove a healthy chunk of the prompt cards for playing with kids, as some of the topics can wander into inappropriate territory, such as "What was your first run-in with the law?" But even with dozens of cards removed, there was more than enough to keep us engaged in meaningful chatter, and that's exactly the purpose we'd recommend Top Tale for.
Are there games you lean on for conversation and emotional exploration? Let us know about them on the DWP's social media! Until next time … whether you're playing with little players or big players, make sure to keep playing games that make your thumbs go way up!