As I continue along my journey as a parent, and begin introducing games to my littles, the impact of learning how to take turns becomes crystal clear. The concept of sharing isn't easy to grasp, but the instant gratification of seeing someone else enjoying a game turn seems to register more strongly than sharing a toy.

That gratification is magnified even more so with a game like Harry Hopper, where playful grasshoppers are leaping across the table to collect blades of grass in an exciting game of daring dexterity!

Published by Kosmos in 2015, with illustration by Stefan Lohr, Harry Hopper is the first published design from Florian Nadler. The game plays in 20 minutes or less, and is recommended for ages 6 and up. Inside the box you'll find two hoppers in two different shades of green, as well as 18 wooden blocks representing blades of grass in the same colours as the hoppers, and an extra block coloured in red. You'll also find a handy cloth bag, in case you'd like to take this game on the go and leave the box on the shelf.

The game is a race to collect all blades of grass of one's matching colour, before claiming the red blade as the final act of victory. The blades of grass are arranged around the table, with the red blade in the middle of the arrangement. On a turn, a player presses down on the rear of the hopper, and upon release, it is launched up and away, hopefully in the direction of the patch of grass! Any blades that match the player's colour are collected by that player, and any that match the opponent's hopper are reset. However, if the red blade is knocked over, the opponent claims one of their own blades. Once a player has collected all of their own grass pieces, they need only topple the red blade to secure the win!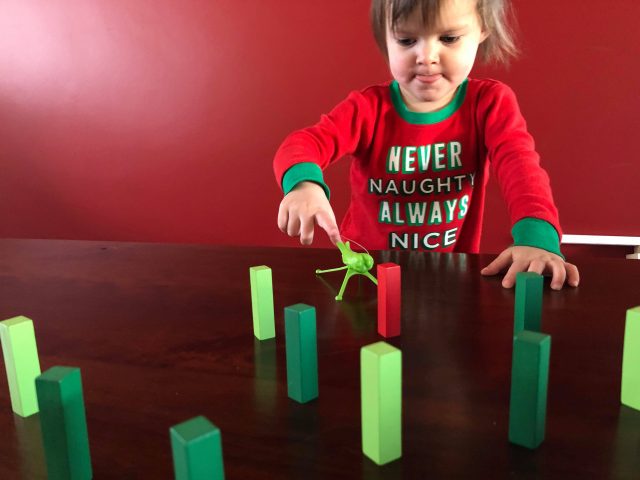 Obstacle Course guidelines are also included in the rulebook, which suggests using pieces of furniture and other objects to create a challenging trail of grass leading to the red blade. The first player to complete the course and claim the red blade at the end is the winner!

The components of Harry Hopper are sturdy and durable, and even after our dozens of plays, are still in excellent condition. I was initially worried that the legs of the plastic hoppers would easily snap with the abuse that they endure from my littles, but they've held up well!

As a gamer, I already have a soft spot for dexterity games, so to find one that my daughters can enjoy is a special treat! My older daughter (aka Big Bean) is just shy of 4 years old, and we currently play this game several times each week. After each turn, we take a pause to count each of our stacks of grass, and celebrate together no matter who wins the game. Our Little Bean (just about to turn 2 years old) also enjoys flinging the hoppers, but isn't quite ready to enjoy all Harry Hopper has to offer on her own. However, when my wife is also at the table, we can play this game in teams, and everyone gets to participate in the fun!

As real estate on our shelves is limited, I appreciate any game targeted at children that can also be enjoyed once the littles are in bed for the night. Fortunately, it doesn't take much to "adultify" Harry Hopper with some simple house rules. For instance, with us big kids, we always play that knocking over the red blade of grass ends is an automatic loss, forcing players to be a bit more careful with their hopper hijinx!

Given that my 3.75 year old daughter can understand this game without much trouble, I suspect that suggesting this game for ages 6 and up is more about appealing to a broader audience. Even though this is a game that my youngsters love, it's a light-hearted title that can be enjoyed by all ages.

Two big thumbs up, and two little thumbs up as well!